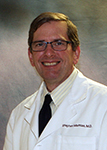 General Information
Strabismus (misaligned eyes) in adults is often the result of progressive, untreated or unsuccessfully treated strabismus from childhood. There are also many adults who develop strabismus as the result of an injury or disease, which then frequently leads to double vision. In the past, most eye doctors thought that adults with misaligned eyes could not be treated successfully, or that treatment was "only cosmetic". Advances in the management of misaligned eyes now provide benefits to most adults as well as children. Treating adults with strabismus can improve depth perception, the way the two eyes work together, and the field of vision. Many patients report improved self-esteem, communication skills, job opportunities, reading and driving. Treatment of strabismus generally requires eye muscle surgery. However, some patients may need glasses, prisms, medications, or may be best left untreated.
Definition
Strabismus is a condition in which the eyes point in different directions. It is commonly termed 'misaligned eyes', 'wandering eye', 'eye muscle problem', 'crossed eye', or 'lazy eye'.
Historical Perspective
Over the past several generations, it was felt that very little could be done for misaligned eyes in adults. Recently there has been a marked improvement in the outcome of treatment for these patients. Now the majority of misaligned eyes can be significantly improved. Having straight eyes is a valuable asset that patients deserve. Your eye doctor can evaluate strabismus problems and recommend treatment.
The Value of Treating Strabismus
Approximately 4% of adults have misaligned eyes. Some cases are related to medical illnesses or accidents. Adult-onset eye misalignment usually results in double vision, which is often hard to tolerate and prompts evaluation and treatment by a strabismus specialist. A second common type of adult strabismus involves patients with misaligned eyes from childhood. This problem starts at a time when the patient can suppress (that is, 'turn off') one eye and thus avoid double vision. Unfortunately, for decades these patients have been told that nothing could or should be done about their misaligned eyes. As a result, treatment has not been available to them. These patients suffer from a loss of binocular vision and stereopsis, which means that the two eyes do not work together as they should to provide depth perception. Many can have a limitation of their field of vision (peripheral vision or side vision). In addition to affecting eye function, misaligned eyes can get in the way of normal eye-to-eye contact, communication skills and social interaction. This can lead to reduced self-confidence and many patients will often look down or away from the person to whom they are speaking to avoid eye contact. The person being spoken to may be uncertain which eye the patient is using and may be distracted from what the patient is trying to communicate. Such impairment of communication skills can lead to limited job (or job advancement) opportunities. Straightening the eyes will lead to some binocularity (that is, the two eyes working together) in the majority of cases, even in instances where the onset of the strabismus occurred in early childhood.
Strabismus repair is not a "cosmetic" procedure but should more appropriately be considered reconstructive surgery. Cosmetic surgery (such as in face lifts, etc.) alters a normal appearance, whereas reconstructive surgery changes an abnormal appearance to one that is more normal. Thus, insurance should cover the expense of diagnosis and treatment. However, the issue of insurance coverage is controlled by individual insurance policies. Patients should therefore verify coverage with their insurer. Following surgery, the eyes may need to adjust to their new position. In a recent study of 424 adults who underwent surgery for long-standing strabismus from childhood, only 9% had temporary double vision, which resolved in 1 to 6 weeks. Less than 1% had persistent double vision, which most patients were able to tolerate or ignore. Patients who have adult onset strabismus with other medical problems and constant double vision before surgery may continue to have some problems with double vision after surgery. Medical treatment (such as prisms, glasses, contact lenses, Botox, patching) may be helpful in selected cases.
Treatment Options
Strabismus can be treated in various ways. Depending on the individual case, treatment options include:
Glasses: Improved vision may help control the eye alignment and eliminate double vision.
Prisms: Temporary prisms may be tried as a piece of plastic attached to glasses (Fresnel Prism) or permanently ground into the current glasses.
Patch: Black patch, film on glasses, or contact lens may be used to occlude one eye and block the double vision
Botox Injection: During a 90 day paralysis of an eye muscle, the muscle is stretched making it "longer and weaker".
Marcaine Injection: Stimulates growth of a muscle making it "stronger and tighter".
Surgery: Physically lengthen, shorten or move eye muscles.
Policy Statement: Medical Necessity of Adult Strabismus Surgery
Strabismus is a misalignment of the eyes. It is not a normal condition. Strabismus surgery is the only effective treatment in many of these patients. Surgical correction or strabismus in adults is reconstructive in nature and not cosmetic. The indications for strabismus surgery are:
Elimination of double vision (diplopia)
Improvement of three-dimensional vision
Expansion of visual field
Elimination of abnormal head posture
Improvement of psychosocial function
Improvement of vocational status
Corrective surgery is a medical necessity and its correction should be a covered benefit by insurance companies, health plans and third party payers. However, the issue of insurance coverage is controlled by individual insurance policies. Patients should therefore verify coverage with their insurer.
(A Joint Statement of the American Academy of Pediatric Ophthalmology and Strabismus and the American Academy of Ophthalmology; Approved, March 21, 2001)